Biography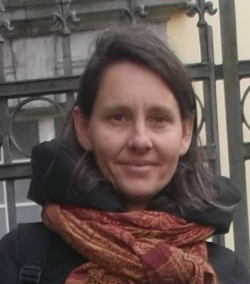 Stefanie Seeberg (Ph.D., Universität München, 1998) is a Senior Researcher at the CCHS—CSIC, Madrid. Since 2007, she has worked on her research project, "Textilien als Teil der Kirchenausstattung des Mittelalters" [Textiles as Part of Church Furnishings during the Middle Ages], funded by the Deutsche Forschungsgemeinschaft , while a research assistant at the Institute of Art History, Universität Köln. Previously, she held various teaching positions at the Universities of Erfurt, Aachen, and Köln. Her research on women as artists, Romanesque manuscript illumination, church decoration, and textiles in medieval Germany has been supported by the Deutsche Forschungsgemeinschaft, Ministry of Science Nordrhein-Westfalen, and Villigst.
Selected Publications
"Sprechende Reliquiare aus Seide – Die bestickten Handschuhe aus dem Schrein der Christina von Stommeln (1242-1312)." In Gottesschau und Gottesliebe, Die Mystikerin Christina von Stommeln 1242-1312, Exhibitioncatalog Museum Zitadelle Jülich, 2012 (in preparation).
"Women as Makers of Church Decoration: Illustrated Textiles at the Monasteries of Altenberg/Lahn, Rupertsberg, and Heiningen (13th – 14th c.)." In Reassessing the Roles of Women as 'Makers' of Medieval Art and Architecture, ed. Therese Martin. Leiden and Boston: Brill, 2012, pp. 355-391.
"Marienkleid, Windeln und Lendentuch Christi – Zur Geschichte der Verehrung und Wahrnehmung textiler Christus- und Marienreliquien in Mittelalter und früher Neuzeit." In Venite et videte. Kunstgeschichtliche Dimensionen der Aachener Heiligtumsfahrt. Karl Allgaier, Andreas Gormans, and Alexander Markschies, eds. Tagungsband zum interdisziplinären Studientag des Kunsthistorischen Institutes der RWTH Aachen und der Bischöfliche Akademie Aachen, Aachen 9.-10. Juni 2007, Aachen, forthcoming 2012.
"Monument in Linen: A Thirteenth-Century Embroidered Catafalque Cover for the Members of the Beata Stirps of Saint Elizabeth of Hungary." In Dressing the Part: Textiles as Propaganda in the Middle Ages. Kate Dimitrova and Margaret Goehring, eds. Oostkamp: Brepols, forthcoming 2012.
"Zur Sichtbarkeit und Wahrnehmung gestickter Bilder und Inschriften auf Altardecken des Mittelalters." In Beziehungsreiche Gewebe. Textilien des Mittelalters. Tagungsband zur Internationalen Tagung, Köln 24.- 26. November 2006. Kirstin Böse and Silke Tammen, eds. Köln, forthcoming 2012.
Birgitt Borkopp-Restle and Stefanie Seeberg. "Farbe und Farbwirkung in der Bildstickerei des Hoch- und Spätmittelalters – Textilien im Kontext der Ausstattung sakraler Räume." In Farbiges Mittelalter?! Farbe als Materie, Zeichen und Projektion in der Welt des Mittelalter. Ingrid Bennewitz, ed. Berlin: Akademie Verlag, 2011, pp. 189-211.
Die Illustrationen im Admonter Nonnenbrevier von 1180. Marienkrönung und Nonnenfrömmigkeit - Die Rolle der Brevierillustration in der Entwicklung von Bildthemen im 12. Jahrhundert. Imagines Medii Aevi, Interdisziplinäre Beiträge zur Mittelalterforschung, vol. 8. Wiesbaden: Reichert Verlag, 2002.