"La vida en tiempo de pestilencia (Castilla 1596-1601)"
 Ruth MacKay
Jueves 4 de octubre 2018
Sala Julián Ribera 1C9/23
CCHS-CSIC
C/ Albasanz 26-28
28037 Madrid
Organiza:  Proyecto CORPI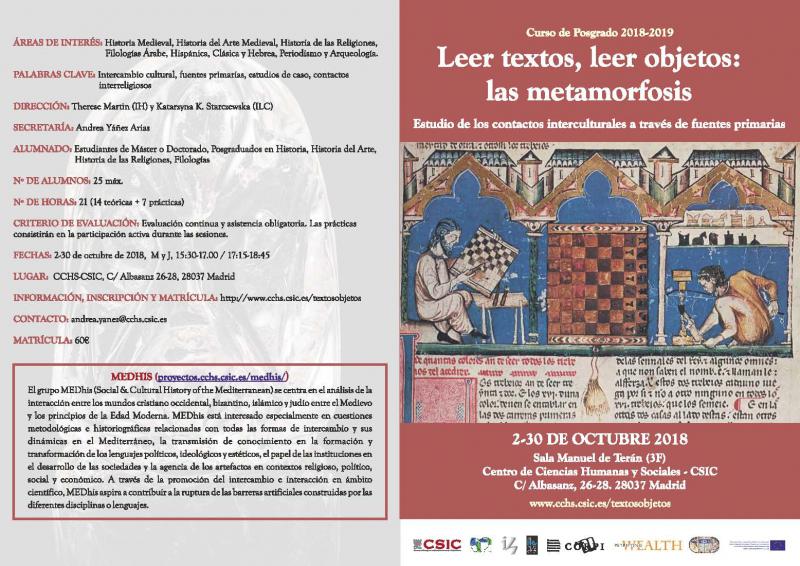 Dirección: Therese Martín (IH, CCHS-CSIC) y Katarzyna K. Starczewska (ILC, CCHS-CSIC)
Secretaria: Andrea Yáñez Arias (IH, CCHS-CSIC)
Matrícula: 60€ 
Horas lectivas: 21 hrs.
14 sesiones
Horario: M y J, de 15:30 a 18:45 h.
Sala Manuel de Terán 3F
Centro de Ciencias Humanas y Sociales (CCHS-CSIC)
Albasanz, 26-28 (Madrid)
Jornadas Proyecto Tesoro. Resultados de la investigación interdisciplinar sobre el tesoro de San Isidoro de León
11-12 septiembre 2018 
San Isidoro de León, Sala del Pendón
La creación de un tesoro medieval ofrece un testigo material para desvelar los intereses, las posibilidades y las aspiraciones de quiénes lo establecieron. En el registro escrito queda constancia de los múltiples usos que las figuras regias hacían de sus tesoros en los siglos centrales de la Edad Media. Para los monarcas, un tesoro podía funcionar como una fuente de obsequios para los aliados, a los que ataban con lazos de obligación; posesiones de prestigio para la ostentación ante un público de élite; o reservas financieras que se podían despiezar en tiempos de necesidad. Tanto crónicas como documentos describen los vaivenes de los metales preciosos y los textiles bordados o tejidos con hilo de oro, dejando clara no solo la suma importancia que tenían para la representatividad regia y la eclesial sino también para la economía de los poderosos.
A pesar de su notable presencia en la documentación escrita, pocos tesoros medievales de la Península Ibérica han llegado a nuestros días en un estado más o menos intacto. Sin embargo en San Isidoro de León se puede analizar la realidad material de los marfiles, textiles y orfebrería así como el archivo conformado por documentos, crónicas y milagros que hacen referencia al tesoro. Por esta razón el tesoro de San Isidoro de León brinda una oportunidad singular para la investigación interdisciplinar y multicultural. Tanto por su riqueza en objetos como en fuentes escritas, la colección isidoriana brilla y nos ofrece un punto de partida para estudiar cuestiones amplias sobre el papel del arte suntuario en el reino de León-Castilla en los siglos XI-XII.
Con la participación de Therese Martin (CSIC, Madrid), Jitske Jasperse (Humboldt-Universität zu Berlin), Amanda Dotseth (Meadows Museum of Art, Dallas), Nancy Wicker (University of Mississippi), Laura Rodríguez Peinado (Universidad Complutense de Madrid) y Ana Cabrera (Subdirección General de Museos/Marie S.-Curie Fellow).
Organiza: Therese Martin, IP, El tesoro medieval a través de fronteras y generaciones: el reino de León-Castilla en el contexto del intercambio islámico-cristiano, c. 1050-1200 (Proyecto Nacional de Excelencia, Ministerio de Economía y Competitividad, HAR2015-68614-P, 2016-2018)
Más información: therese.martin@cchs.csic.es
MEDhis is a consortium of scholars in the field of Mediterranean studies whose research centers on the social, cultural, artistic, and archaeological analysis of Western Christian, Islamic, Jewish and Byzantine interaction in medieval and early modern times, and in which the Mediterranean is accorded its widest possible geographic definition. MEDhis is particularly interested in methodological and historiographical concerns related to all forms of exchange and its dynamics within the Mediterranean, the transmission of knowledge in the formation and transformation of its political, ideological and aesthetic languages, the role of institutions in the development of societies, and the agency of artifacts in religious, political, social, and economic contexts.
The participating scholars subscribe to the argument that cross-cultural research has the possibility to open new doors to a broader understanding of both the past and the present. Just as the cultures of the Mediterranean have been inextricably interrelated since the Middle Ages, so to comprehend them today, they must be examined as part of a greater overall milieu. Each scholar within the MEDhis consortium contributes research that makes comparisons across societies, religions, chronologies, or geographies in order to shine a light on patterns of similarities while revealing significant distinctions. By hosting research seminars and encouraging scholarly interchange, MEDhis aims to contribute to the breaking down of artificial barriers constructed by disciplinary or dialectical differences.
Testing for Unbelief: A Dispute over Theological Enforcement in 17th-century Sijilmasa
Caitlyn Olson (Harvard University)
Viernes, 29 de junio 2018
Sala Julián Ribera, 11:30h
CCHS-CSIC
C/ Albasanz 26-28
28037 Madrid
Organiza: Jan Thiele
"Spain is different"!? Nationalism and Identity between Antiquity and Today
Jornada de estudio organizada por la Universidad de Huelva y la Universidad de Hamburgo en colaboración con la Landeszentrale für politische Bildung, la Staats- und Universitätsbibliothek Hamburg Carl von Ossietzky y la Fundación Alexander von Humboldt (Anneliese Maier Award 2014, PI Maribel Fierro Bello, "Practicing knowledge in Islamic societies and their neighbours").
Hora y lugar
28.06.2018; jueves, 9 – 20 horas; Von-Melle-Park 3, 20146 Hamburg, sala de conferencias en la primera planta
Más información y programa detallado:
http://www.toletum-network.com/es/aktivitaten/spain-is-different-nationalism-and-identity-between-antiquity-and-today/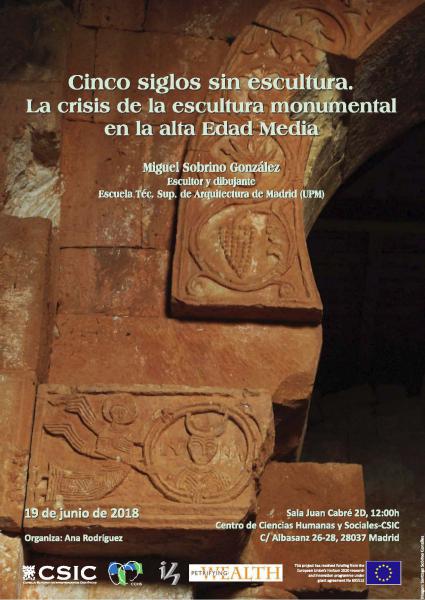 Cinco siglos sin escultura. La crisis de la escultura monumental en la alta Edad Media.
Miguel Sobrino González
Escultor y dibujante.
Escuela Téc. Sup. de Arquitectura de Madrid UPM)
Martes 19 de junio 2018
Sala Juan Cabre, 12h
CCHS-CSIC
C/ Albasanz 26-28
28037 Madrid
Organiza: Ana Rodriguez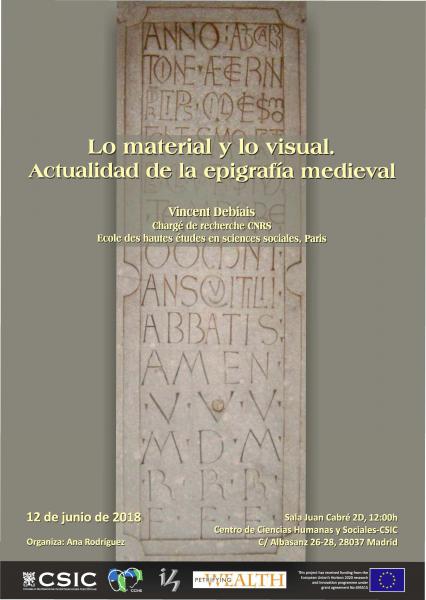 Lo material y lo visual. Actualidad de la epigrafía medieval
Vincent Debiais
Chargé de recherche- CNRS
Ecole des hautes études en sciences sociales.
Martes, 12 de junio 2018
Sala Juan Cabré, 12h
CCHS-CSIC
C/ Albasanz 26-28
28037 Madrid
Organiza: Ana Rodriguez
El viaje a España de Jan van Eyck y su fascinación por el arte nazarí
Manuel Parada López de Corselas
Jueves 7 de junio 2018
Sala Julian Ribera, 11:30h
IH-CCHS
C/ Albasanz 26-28
28037 Madrid
Organizado por CORPI
Making Books Talk: The Reception of an Andalusian Biography of the Prophet
Dagmar Anne Riedel
Miercoles, 23 de mayo 2018
Sala Julián Ribera, 12h
CCHS-CSIC
C/ Albasanz 26-28
28037 Madrid
Organizan: Maribel Fierro y Víctor de Castro
Pages