Middle East Medievalists Lifetime Achievement Award in Recognition of Prof. Fierro's Scholarship
By Mohamad Ballan  
Maribel Fierro received her Ph.D. in Semitic Philology at the University Complutense Madrid in 1985. She is a research professor at the Institute of Languages and Cultures of the Mediterranean and the Near East of the Spanish National Research Council (CSIC) in Madrid. She has also taught at Stanford University (2002), The University of Chicago (2011), Freie Universität Berlin (MA Intellectual Encounters of the Islamicate World) and Universidad Autónoma Madrid, and has been Directeur d'études at the École des Hautes Études en Sciences Sociales (1998, 2012). She was a visiting scholar at Harvard Law School (2017), Institute for Advanced Study, Princeton (2015, 1994-5) and Institute for Advanced Studies of The Hebrew University of Jerusalem (1999-2000).
Maribel Fierro has rightly been recognized as one of the leading voices in Islamic Studies today. Her rigorous scholarship, numerous publications, admirable service to the profession, as well as her dedication to teaching and advising students across a variety of disciplines have greatly contributed to the emergence of Andalusi and North African Studies as distinct (and thriving) fields of intellectual inquiry. Over the course of her career, Maribel Fierro has worked and published on numerous topics, including the political, religious and intellectual history of al-Andalus and the Islamic West, Islamic law, the construction of orthodoxy and heresy, and violence and its representation in medieval Arabic sources. Among her most significant recent publications are The Almohad revolution: Politics and Religion in the Islamic West during the Twelfth-Thirteenth Centuries (2012) and Abderramán III y el califato omeya de Córdoba (2011), as well as numerous articles on a wide range of subjects. Maribel Fierro's exemplary and original work has fundamentally reshaped our understanding of the medieval Islamic West, particularly during the 8th–13th centuries. By examining the social history of the Islamic world alongside its intellectual and political history, and the history of al-Andalus alongside that of North Africa and the Mashriq, Maribel Fierro's work illustrates the value of working across disciplines, regions and languages. Her scholarship, which is remarkable for both its breadth and engagement with a diverse range of intellectual and linguistic traditions, is distinguished by her incomparable command over numerous bodies of sources, ranging from legal collections of responsa to historical chronicles and philosophical texts. The numerous projects that she has directed—which include Knowledge, Heresy and Political Culture of the Islamic West (2009–2014), Practicing Knowledge in Islamic Societies and their Neighbors (Anneliese Maier Award 2014, Alexander von Humboldt Foundation) and, Local Contexts and Global Dynamics: al-Andalus and the Maghreb in the Islamic East (with Mayte Penelas, financed by the Spanish MINECO)—reflect this commitment to interdisciplinarity.
Maribel Fierro's most recent project—Contextos locales y dinámicas globales: al-Andalus y el Magreb en el Oriente islámico (AMOI)—is particularly promising and illustrates her larger intellectual project of bringing the study of the Islamic West into conversation with intellectual, social, religious and political developments in the Central Islamic Lands. The project seeks to study how, when and why knowledge produced in the Islamic West spread to other Islamic lands. It brings together a research team made up of members specialized in religion, law, literature and historiography to explore the significance of Andalusi and Maghribi contribution to intellectual developments across the Islamic world. This project, like many initiatives in which Maribel Fierro has been involved, reflects her commitment to promoting scholarly collaboration, intellectual rigor and interdisciplinary approaches to the past, all of which have played a pivotal role in transforming the study of the Islamic West into a major field of intellectual inquiry in both Europe and North America over the past three decades.
El Corán europeo
Publicado por Editores el 24 octurbre 219
Contratiempo: historia y memoria, programa de Radio Círculo de Bellas Artes, entrevista a Mercedes García Arenal, investigadora del CSIC, acerca del proyecto europeo que coordina, «El Corán europeo», que ha obtenido una de las prestigiosas Synergy Grants del European Research Council para estudiar la influencia del libro sagrado del islam en la cultura y el pensamiento europeos
http://www.alandalusylahistoria.com/?p=1542
La campaña de comunicación Las científicas cuentan, desarrollada entre abril de 2018 y marzo de 2019, y coordinada por la Delegación del Consejo Superior de Investigaciones Científicas (CSIC) en Bruselas, ha sido elegida como ejemplo de buena práctica comunicativa por la unidad de comunicación de la Agencia Ejecutiva del European Research Council (Consejo Europeo de Investigación).
https://www.csic.es/es/actualidad-del-csic/la-campana-las-cientificas-cuentan-elegida-como-buena-practica-por-el-european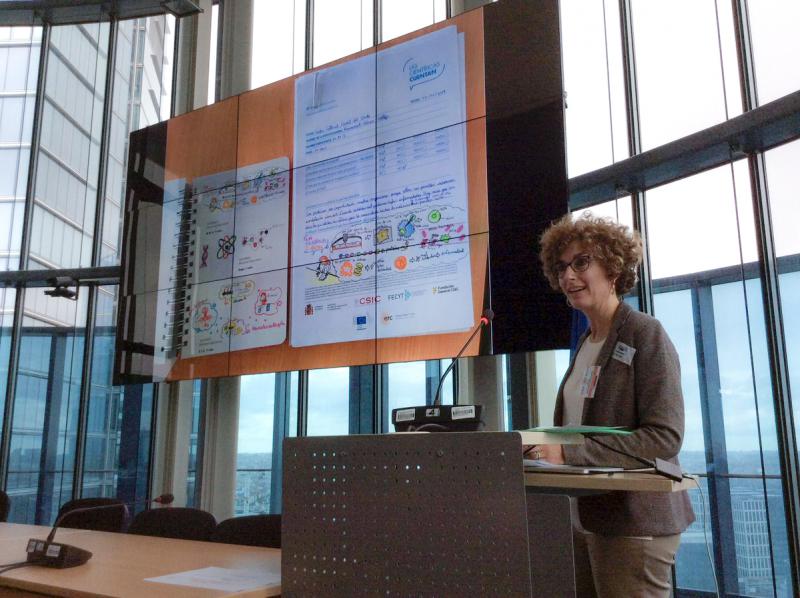 Applications are invited for a postdoctoral fellowship at Silsila: 
Center for Material Histories, New York University. The Center fosters interdisciplinary scholarship on material histories of the pre- and early modern Islamicate world, broadly conceived. It supports research on transcultural and transregional phenomena that contributes to a reimagining of current disciplinary boundaries, chronologies, and epistemic paradigms.
The successful candidate will be expected to contribute actively to Center seminars and events, to liaise with other university departments and Centers, to assist with program planning in collaboration with the director, and to work with an administrative aide to help organize, advertise and host events. They will also be expected to teach one course per semester, either a survey or an advanced course in their subject area. The appointment will run from September 1st 2020 to August 31st 2021 with the possibility of a one-year renewal, pending budgetary and administrative approval.
Qualifications
Applicants should have a PhD in hand, relevant language skills, and proven research interests in the art, architecture or material culture of Islamicate societies before 1500. Candidates must have completed their Ph.D. no earlier than September 1, 2015. Review of applications will begin on November 25th and continue until the position is filled.
Application Instructions
Please apply online through Interfolio: apply.interfolio.com/70001 with a cover letter to the search committee that describes your research and teaching interests, a resume or curriculum vitae, the names of three references and a statement on your approach to diversity and inclusion. Diversity is an important part of the NYU mission and we ask that you address how diversity and inclusion factor into past and present teaching, research, and/or community engagement, as well as how you would bring issues of diversity to bear on teaching and programming at NYU. For more information, please see here.
For questions regarding the application, contact Shavanna Calder, sc1886@nyu.edu.
The Faculty of Arts and Science at NYU is at the heart of a leading research university that spans the globe. We seek scholars of the highest caliber who embody the diversity of the United States as well as the global society in which we live. We strongly encourage applications from women, racial and ethnic minorities, and other individuals who are under-represented in the profession, across color, creed, race, ethnic and national origin, physical ability, gender and sexual identity, or any other legally protected basis. NYU affirms the value of differing perspectives on the world as we strive to build the strongest possible university with the widest reach. To learn more about the FAS commitment to diversity, equality and inclusion, please read here: http://as.nyu.edu/departments/facultydiversity.html.
EOE/Affirmative Action/Minorities/Females/Vet/Disabled/Sexual/Orientation/Gender Identity.
ASSISTANT PROFESSOR, MEDIEVAL HISTORY: The Department of History at Fordham University solicits applications for a full-time, tenure-track position at the rank of assistant professor in the history of high or late medieval Europe (ca. 1200-1500 CE) with an emphasis on gender and social history.   The successful applicant will participate actively in Fordham University's interdisciplinary Center for Medieval Studies. Applications should include a CV, three letters of recommendation, a writing sample of article length, and a teaching portfolio (with sample syllabi and a teaching statement).  Candidates should submit applications to apply.interfolio.com/68795 by 15 November 2019.  At Fordham, we firmly believe that cultural and intellectual diversity is central to the excellence of our academic program and our institutional vitality; we welcome applications from people of all backgrounds. Women, people of color, veterans, and people with disabilities are especially encouraged to apply. Questions should be directed to the Chair of the Search Committee, Prof. Scott G. Bruce, at sbruce3@fordham.edu. Fordham is an independent, Catholic University in a Jesuit tradition that welcomes applications from all backgrounds. Fordham is an equal opportunity employer.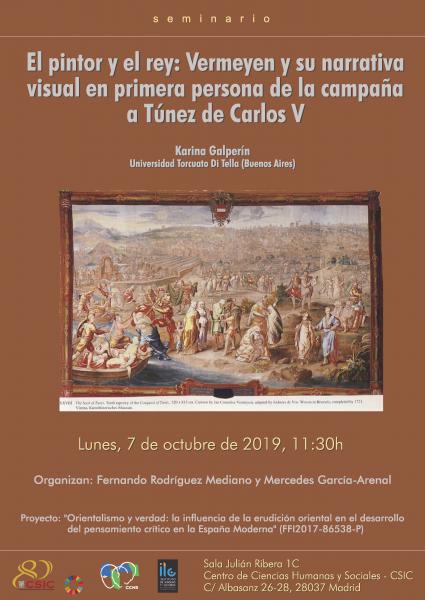 "El pintor y el rey: Vermeyen y su narrativa visual en 1ª persona de la campaña a Túnez de Carlos V".
Karina Galperín (Universidad Torcuato Di Tella, Buenos Aires)
Lunes 7 de octubre de 2019, 11h
Sala Julián Ribera 1C,
CCHS-CSIC
C/ Albasanz 26-28
Organizan:Fernando Rodriguez Mediano y  Mercedes Garcia-Arenal (ILC, CCHS-CSIC)
Processions and Royal Entries in the Petrification of Space during the Medieval and Early Modern Periods Madrid Conference.
Sala Jose Castillejo (0D1)
CCHS-CSIC
C/ Albasanz 26-28
28037 Madrid
Organiza: Ana Rodriguez y Mercedes Garcia Arenal
Para más información: http://cchs.csic.es/es/event/congreso-processions-royal-entries-petrification-space-during-medieval-early-modern-periods
The History Department at the University of Tennessee-Knoxville seeks to make a full-time, tenure-track appointment at the rank of Assistant or Associate in Medieval History (c. 500—c. 1400). The appointment will begin fall semester 2020. Ph.D. required at the time of appointment.  Field of specialization is open. We encourage applications from scholars whose fields, thematic focuses and geographic areas complement our department's existing expertise in European and Mediterranean history. Preference will be given to candidates with a significant record of publication and demonstrated excellence in teaching. The successful candidate will teach both graduate and undergraduate courses, including surveys in Western Civilization and/or World History, more advanced specialized courses, and undergraduate and graduate research seminars, and will participate actively in Marco, UTK's Medieval and Renaissance Studies Institute. The Knoxville campus is seeking candidates who have the ability to contribute in meaningful ways to the diversity and intercultural goals of the University. A complete application will include a letter of application, curriculum vitae, three letters of recommendation, and an article-length writing sample. Materials should be emailed to https://apply.interfolio.com/68057
Review of applications will begin November 15, 2019 and continue until an appointment is made.
The University of Tennessee is an EEO/AA/Title VI/Title IX/Section 504/ADA/ADEA institution in the provision of its education and employment programs and services.  All qualified applicants will receive equal consideration for employment and admission without regard to race, color, national origin, religion, sex, pregnancy, marital status, sexual orientation, gender identity, age, physical or mental disability, veteran status and parental status.
The Department of Modern Languages and Literatures at William & Mary seeks applications for a tenure-track position at the Assistant Professor level to join our issues-driven interdisciplinary program in Hispanic Studies beginning August 10, 2020. The successful candidate will have expertise in Medieval Iberian Cultural Studies, and an interest in Sephardic Jews, Muslims (and Moriscos), etc.  The candidate is expected to maintain an active research program that inspires a highly motivated undergraduate student body.
Teaching expectation is two courses per semester.  The successful candidate will possess the skills to develop new courses in the area of Medieval Iberia, as well as teach current course offerings like Introduction to Hispanic Studies, Issues in Canon Formation, and our Capstone Seminars.  Opportunities exist to develop courses and teach in our dynamic general education curriculum (http://www.wm.edu/as/undergraduate/curriculum/coll) and contribute tointerdisciplinary programs like Medieval & Renaissance Studies.
Required Qualifications: Applicants must hold a Ph.D. in Spanish or a related field at the time of appointment, August 10, 2020. Candidates must possess the skills to teach Hispanic language and culture at all levels. Evidence of previous teaching experience and native or near-native fluency in Spanish and English are required.
Excellence in teaching and mentoring successful undergraduate research is preferred.
Salary is commensurate with qualifications and teaching experience.
Applicants may apply online at https://jobs.wm.edu/postings/36946  Submit a curriculum vitae, a cover letter that includes a statement of research and teaching interests, a sample syllabus for a course you would like to teach. You will be prompted to submit online the names and email addresses of three references who will be contacted by us with instructions for how to submit a letter of reference. 
For full consideration, all application materials including three letters of reference must be submitted by the review date, October 16, 2019. Applications received after the review date will be considered only if needed. 
Information on the degree programs in the Department of Modern Languages and Literatures may be found at http://https://www.wm.edu/as/modernlanguages/undergraduate/index.php
The College of William & Mary values diversity and invites applications from underrepresented groups who will enrich the research, teaching and service missions of the university. The College is an Equal Opportunity/Affirmative Action employer of women, minorities, persons with disabilities and protected veterans. The university conducts background checks on applicants for employment.
El Ministerio de Ciencia, Innovación y Universidades ha concedido los Premios Nacionales de Investigación 2019 a Valentín Fuster, Ángela Nieto, Susana Marcos, Manuel Carreiras y Mercedes García-Arenal. El ministro de Ciencia, Innovación y Universidades en funciones, Pedro Duque, ha comunicado a los premiados el fallo del jurado y les ha felicitado en nombre del Gobierno.
Premio Nacional 'Ramón Menéndez Pidal' de Humanidades. Premiada, Mercedes García-Arenal Rodríguez. El jurado ha valorado sus estudios sobre minorías religiosas en la Edad Moderna de la Península Ibérica y el Mediterráneo. Su trabajo es de gran relevancia para entender la Europa contemporánea, concretamente las grandes religiones, el contacto y la diferencia cultural, el miedo al extraño y los peligros del mesianismo.
http://www.ciencia.gob.es/portal/site/MICINN/menuitem.edc7f2029a2be27d7010721001432ea0/?vgnextoid=524ecce44dadb610VgnVCM1000001d04140aRCRD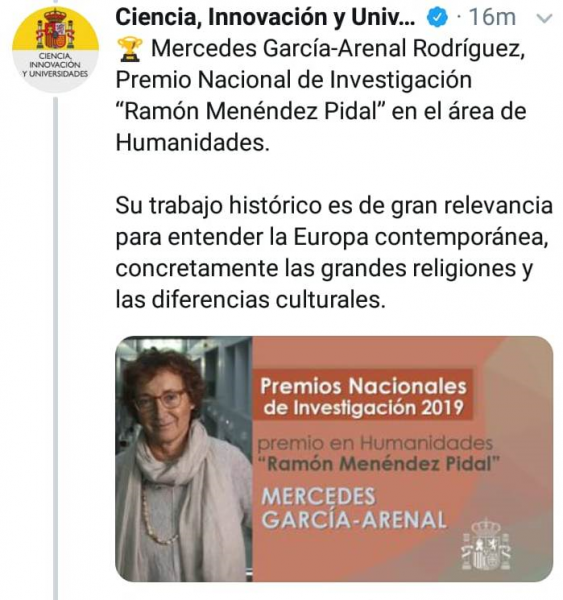 Pages