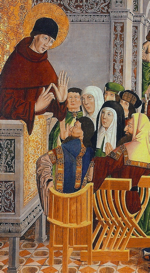 2015/02/3-26. Postgraduate Course "Historia y Filosofía de las Emociones", to attend as listeners Eduardo Fernández, Teresa Soto, Javier Albarrán and Carla Ramos.
2015/02/02-03. Curso ¨Bernini, Roma y la monarquía hispánica", Centro de Estudios del Museo Nacional del Prado. Jesús Téllez attends the course.
2014/11/19-22. Workshop at Casa de Velázquez on ¨Santidad y política en época moderna¨, Jesús Téllez attends the course.
2014/07/1-12. Eduardo Fernández Guerrero was in Assis, in the Seminario di formazione in Storia Religiosa e Studi Francescani.
2014/05/21-24. Simposio internacional en el Museo Thyssen-Bornemisza en torno a "El Greco", en el que participó Felipe Pereda, y asistió Jesús Téllez.
2014/04/28-05/02. Teresa Soto has participated in the Course "Medieval and Modern Manuscript Studies in the Digital Age". The project DiXiT. Warburg Institute, University of London.
2014/04/24-06/05. Workshop at CCHS-CSIC: "Fundamentos teóricos para una historia cultural" (Theoretical Basis for a Cultural History), wich has had as directors and professors Carlos Cañete and Fernando Rodríguez Mediano, and as students Eduardo Fernández, Teresa Soto, Javier Albarrán, Carla Ramos, Jesús Téllez, Gloria Vezzosi and Katarzyna K. Starczewska.
2014/02/28.  Javier Albarrán, Katarzyna K. Starczewska and Teresa Soto attended the conference sessions of: "The Use of Tafsir in Translating de Koran". Warburg Institute, Londres.
2014/01/13. Jornada de estudio en la Casa de Velázquez en torno a: "El trinitario fray Francisco Ximénez en Túnez. De los estudios clásicos y orientales en la España dieciochista". Teresa Soto attended.
2013/12/18. "Brujería y magia en la España del Siglo de Oro" impartido por María Lara Martínez (UNED), contó con la asistencia de Eduardo Fernández Guerrero.
2013/11/20-23. IV Congreso Internacional de Latín Medieval Hispánico. La Nucia, Alicante. Katarzyna K. Starczewska and Eduardo Fernández Guerrero attended the conference sessions.
2013/05/15-16. Mònica Colominas was in "2. Canon on the Move: a symposium on Texts and Transformation", at  Leiden University.