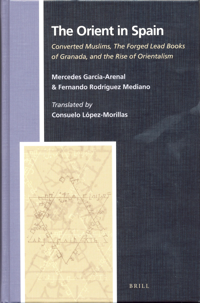 The Orient in Spain: converted Muslims, the forged lead books of Granada, and the rise of orientalism.
Mercedes Garcia-Arenal and Fernando Rodriguez Mediano; translated by Consuelo Lopez-Morillas. Leiden, Brill, 2013. 475 pp., 24 cm.
Taking as its main subject a series of notorious forgeries by Muslim converts in 17th century Granada (including an apocryphal gospel in Arabic), this book studies the emotional, cultural and religious world view of the Morisco minority and the complexity of its identity, caught between the wish to respect Arabic cultural traditions, and the pressures of evangelization and efforts at integration into "Old Christian" society. Orientalist scholarship in Early Modern Spain, in which an interest in Oriental languages, mainly Arabic, was linked to important historiographical questions, such as the uses and value of Arabic sources and the problem of the integration of al-Andalus within a providentialist history of Spain, is also addressed. The authors consider these issues not only from a local point of view, but from a wider perspective, in an attempt to understand how these matters related to more general European intellectual and religious developments.
___
History of Religion. Middle East and Islamic Studies. Moriscos. History of writing. Power Relations.