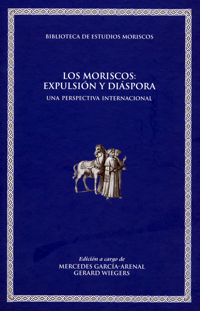 Los moriscos: expulsión y diáspora. Una perspectiva internacional.
Mercedes García-Arenal, Gerard Wiegers (eds.). Valencia, Universitat de València, 2013. 482 pp.; 25 cm.
The expulsion of the Moriscos is an important episode of ethnic, political and religious cleansing. It drew on an ideology that defended this measure in favour of religious unity, as it considered that the previous processes of complete cultural assimilation and full religious integration, which were said to be pursued, had failed. This book examines how the decision to expel the Moriscos was reached, the causes alluded in favour of (and against) the measure, the historical and political context that helps explain why it was adopted in that first decade of the seventeenth century. It also examines the ideological context, the role of the various agencies involved in the decision, including the Vatican, the international situation in the policies of the Spanish monarchy and how various European and Eurasian powers saw the expulsion and how they acted.
See here the front and back covers.
___
Moriscos. Conversions. Migrations. Power relations. Spain. 16th century. 17th century.