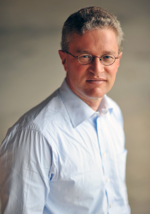 Professor of Religious Studies. University of Amsterdam, Faculty of Humanities.
Gerard Wiegers (Ph.D., cum laude, Leiden University 1991), was Research Fellow of the Netherlands Academy of Arts and Sciences (KNAW) at Leiden University between 1992 and 1997, Associate Professor of  Islamic Studies and Comparative Religious Studies at Leiden University until 2003 and between January 2004 and September 2009 full professor of Comparative Religion and Islamic Studies at Radboud University Nijmegen. Since September 2009 he is full professor of Religious Studies at the University of Amsterdam and chair of the department for Religious Studies.
He is a member of the editorial boards of among others the Numen Book Series, the Medieval en Early Modern  Iberian World (Brill, Leiden) and the journal Al-Qantara (CSIC-Madrid). From April 2013 until April 2014 he is visiting research fellow at the Käte Hamburger Kolleg 'Dynamics in the History of Religions between Europe and Asia at the Ruhr University Bochum.
Main publications:
    (with P.S. Van Koningsveld and Q. al-Samarrai): Ahmad b. Qâsim al-Hajarî: Kitâb nâsir al-dîn calâ l-qawm al-kâfirîn (The Supporter of Religion against the Infidels). Historical study, critical edition and annotated translation, Madrid: Consejo Superior de Investigaciones Científicas 1997 [Fuentes Arábico-Hispanas, 21].
    (with M.García-Arenal): A Man of Three Worlds: Samuel Pallache, A Moroccan Jew in Protestant and Catholic Europe (translation: Martin Beagles, with a foreword by David Nirenberg and Richard Kagan). Baltimore and London: Johns Hopkins University Press 2003 (paperback edition Johns Hopkins Universty Press: 2007). Italian Translation, Roma, Viella, 2013.
    "A life between Europe and the Maghrib: the writings of Ahmad b. Qâsim al-Hajarî al-Andalusî (born ca. 977/1569-70)", in The Middle East and Europe: Encounters and Exchanges (= Orientations. Yearbook of the Dutch association for Middle Eastern and Islamic Studies (G.J. van Gelder and E. de Moor, eds.), vol. 1, Amsterdam, Atlanta, 1993, pp. 87-115.
    "Diplomatie et polémique anti-chrétienne: naissance et influence de l'oeuvre de Muhammad Alguazir (vers 1021/1612)"', in: Actes du V Symposium International d'Etudes Morisques sur: le Ve centenaire de la chute de Grenade 1492-1992, Zaghouan 1993, 3 vols., vol. 2, pp. 747-756.
    (with P.S. van Koningsveld): "The polemical works of Muhammad al-Qaysî (fl. 1309) and their circulation in Arabic and Aljamiado among the Mudejars in the fourteenth century", in: Al-Qantara XV (1994), pp. 163-199.
    "Datation et localisation des codices espagnols écrits en caractères arabes (aljamiado): problèmes et perspectives", in: Al-Makhtût al-carabî wa cilm al-makhtûtât (Le manuscrit arabe et la codicologie) (Ahmed-Chouqui Binebine, ed.). Rabat: Université Mohamed V, Publications de la Faculté des Lettres et des Sciences Humaines 1994, pp. 21-30.
    "Language and Identity: Pluralism and the use of non-Arabic languages in the Muslim West", in: Platvoet, J. and Van der Toorn, K. (eds.): Pluralism and Identity. Studies in Ritual Behaviour [Supplementa ad Numen]. Leiden 1995, pp. 303-326.
    "Muhammad as the Messiah: A comparison of the polemical works of Juan Alonso with the Gospel of Barnabas", in: Bibliotheca Orientalis LII no. 3/4, April June 1995, pp. 245-291. Review: Slomp, J.: 'The `Gospel of Barnabas' in recent research', in: Islamochristiana 23 (1997), pp. 81-109.