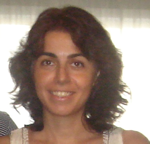 Fatma Sinem Eryilmaz received her PhD with the thesis "The Shehnamecis of Sultan Süleymān: 'Arif and Eflatun and Their Dynastic Project" (University of Chicago, 2010, honors). She has been a post-doctoral fellow (November 2012-November 2013) and continues to be a member of the project Beyond the "Holy War". Managing Conflicts and Crossing Cultural Boundaries between Christiandom and Islam: Mediation, Transfer, and Conversion (XV- XIXth century), led by Giuseppe Marcocci (Scuola Normale Superiore, Pisa).
Her work has focused on the construction of the dynastic image of the Ottoman dynasty during the reign of Süleyman the Magnificent (r. 1520-1566) through the visual and textual analysis of literary and historical sources of the period. Her wider field of interest and research includes the construction and manipulation of knowledge in early modern Eurasia (the Ottoman Empire in particular, but also the Habsburg, Safavid and the Mughal Empires); the role of literature and arts in the formation and dissemination of political culture; the transmission of mystic thought between Christian, Jewish, and Islamic cultural realms in the late medieval and early modern periods; the impact of the Jewish exiles from Spain and Portugal on Ottoman cultural life in the sixteenth century; methods of narration in Ottoman art and literature especially in the sixteenth century; cultural memory; Islamicate iconography, philosophy, mythology, and mysticism.
She is currently writing a book on the sacred kingship of Süleyman the Magnificent.
Her publications include:
"Solaymannama (Süleymanname) as a Historical Source" in Shahnama Studies III: The Reception of Firdausi's Shahnama. Forthcoming in Brill (Leiden).
"From Adam to Süleyman: Visual Representations of Authority and Leadership in 'Ārif's Şāhnāme-yi Āl-i 'Osmān" in Editing the Past, Fashioning the Future, Indiana University Press (Bloomington, Indiana) 2013.
"The China Doll" Story translated from Persian in Black Parrot, Green Crow: a Collection of Short Fiction by Hushang Golshiri, ed. Heshmat Moayyad, Mage Publishers (Washington, D.C,) 2003. Also published in Tablet & Pen Literary Landscapes from the Modern Middle East, ed. Reza Aslan, W.W. Norton & Company (New York) 2011.
"Engizisyon Yargıçları: Geçmiş Zaman Antropologları" Translation of the article "The Inquisitor as Anthropologist" by Carlo Ginzburg in Tarih Çevresi, (bi-monthly journal of history and culture in Turkish), no: 15, Ankara, March-April 1995.