Wednesday, 6 February, 2019 - 09:30

to

Friday, 8 February, 2019 - 15:30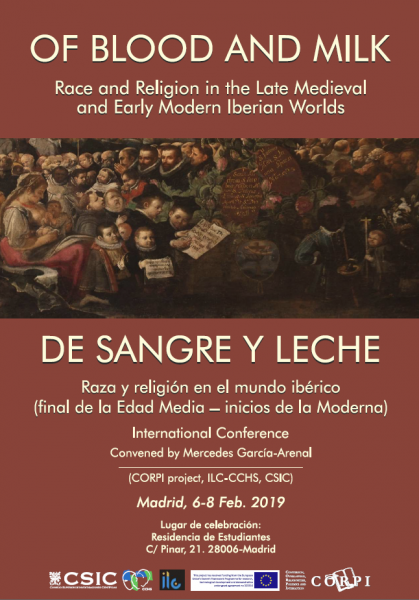 International conference, convened by Mercedes García-Arenal,
OF BLOOD AND MILK. Race and Religion in the Late Medieval and Early Modern Iberian Worlds.
February 6–8, 2019 (Madrid, CSIC-Residencia de Estudiantes)
With the participation of James Amelang, Elisa Andretta, Mohamad Ballan, Francisco Bethencourt, Rachel Burk, Josh Cohen, Karoline Cook, Antonio Feros, Borja Franco Llopis, Max Hering Torres, Maurice Kriegel, Rafael Mandressi, Giuseppe Marcocci, Miguel Martínez, David Nirenberg, Stefania Pastore, Fernando Rodríguez Mediano, Joan-Pau Rubiés, Jean-Frédéric Schaub, Jesús Téllez Rubio, and Antonio Urquízar-Herrera.
See here the program, and the poster.
No registration fee is required. Please confirm attendance before January 10th, 2019 (corpi@cchs.csic.es)