Nos complace compartir con vosotros la reciente publicación del libro: After Conversion: Iberia and the Emergence of Modernity. (Leiden: Brill, 2016, ISBN 9789004324329), en el que han participado integrantes del proyecto CORPI junto con académicos de diversas instituciones. El libro, en el que se analizan las consecuencias religiosas e intelectuales de las conversiones forzosas, explora la tensa relación entre el origen y la fe, y trata el "problema converso" en cuestiones tales como la disidencia religiosa, la disimulación, la duda o el escepticismo.
"Family, Habits, and Institutions: Christian, Jewish and Muslim Scholars from a Comparative Perspective"
Gadi Algazi, Department of History,  Tel Aviv University
14Th September 2016, 12:00h
Seminar Room Juan Cabré
Centro de Ciencias Humanas y Sociales-CSIC
C/ Albasanz 26-28, 28037 Madrid
Organized by the project: PIMIC
Casa Árabe Córdoba, Intensive summer course July 2016
Al-Andalus, problems and perspectives.
Scientific Director: Maribel Fierro (ILC-CCHS, CSIC)
Specialists from different Spanish academic institutions will guide a select group of students into the fascinating history of al-Andalus in a series of seminar-style intensive classes in English in July.
http://en.casaarabe.es/event/al-andalus-problems-and-perspectives.
PIMIC-ITN Forum. Inquiry into the Consequences of PIMIC in the Contemporary World.
24th and 25th June 2016
Mary Ward House 5-7 Tavistock Place, London
More information and programme here:
http://pimic.eu/pimic-itn-forum-enquiry-into-the-consequences-of-pimic-in-the-contemporary-world/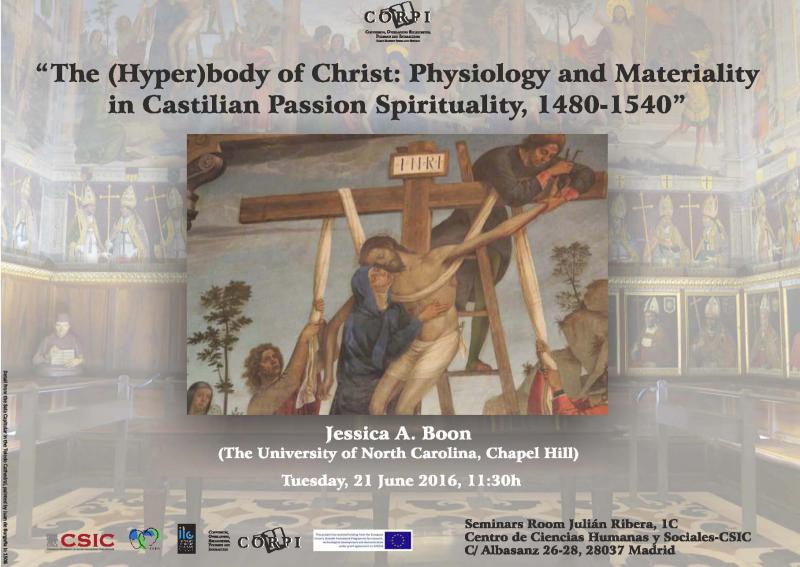 "The Body of Christ: Physiology and Materiality in Castilian Passion Spirituality, 1480-1540."
Jessica Boon (Assistant Professor, Medieval/Early Modern Christianity. Carolina 113, Dept. of Religious Studies, UNC-Chapel Hill)
Tuesday, 21st June, 11:30 h,
Seminar room Julián RIbera 1C
Centro de Ciencias Humanas y Sociales-CSIC
C/ Albasanz 26-28, 28037 Madrid
Organized by the project CORPI
The International Centre for Studies and Research "Mediterranean Knowledge" (ICSR "Mediterranean Knowledge"), was founded with the aim of integrating research groups and other international and national stakeholders engaged in the analysis and research of different forms of knowledge (tangible and intangible) and, especially, in their dissemination within the Mediterranean basin, in order to create tools for the planning, management and evaluation of local actions that may positively impact on the Europeanization and on the perception of Europe by the citizens.
Promoters of the initiative have been the research team of the Department of Humanities, Philosophy and Education (DISUFF) of the University of Salerno (Italy) who shared the goal with a group of other Universities and Research Centres that have become research units of the ICSR "Mediterranean Knowledge": Institut Catholique de Toulouse – ICT (France), Universidad de Sevilla (Spain), Universidad de Huelva (Spain), Centre de Recherche en Economie Appliquée pour le Développement – CREAD (Algeria), Universidade do Porto (Portugal), Academy of Fine Arts of Naples (Italy), University of Palermo (Italy), University of Molise (Italy), LUMSA University of Rome (Italy), ISIA of Rome (Italy), Mediterranean Institute/University of Malta (Malta), UNISTRADA of Reggio Calabria (Italy), Universidade do Algarve/CIEO (Portugal).
The Centre shall be a permanent platform of cooperation, experimentation and dissemination among all stakeholders, promoting the achievement of methodological action-research goals, in order to enforce the development of the territories and of the local and European identities, starting from the cultural heritage and from the Mediterranean Basin.
La investigadora Ana Rodríguez (Instituto de Historia - CCHS, CSIC) consigue una Advanced Grant del European Research Council (ERC), la convocatoria de excelencia científica más competitiva de la Unión Europea, dotada con 2.5 millones de euros con el proyecto Petrifying Wealth. The Southern European Shift to Masonry as Collective Investment in Identity, c.1050-1300.
https://erc.europa.eu/sites/default/files/document/file/erc_2015_adg_results_all_domains.pdf
El  14 de abril de 2016 se publicó la resolución de la convocatoria de 2015 de las ERC Advanced Grants, por la que se concede a Ana Rodríguez, Investigadora Científica del Instituto de Historia del CCHS-CSIC una financiación por un importe de 2.5 millones de euros, que serán destinados a analizar las transformaciones estructurales en Europa que llevaron al nacimiento de un nuevo paisaje entre los siglos XI y XIII caracterizado por la amplitud y rápida difusión de construcciones en piedra y en otros materiales duraderos.
Entre los siglos XI y XIII se hace evidente un vínculo estructural entre riqueza individual y colectiva, por una parte, y la inversión en construcciones imponentes y duraderas, por otra. La extraordinaria difusión de la petrificación medieval ha creado un legado europeo de edificios monumentales y la visibilidad del fenómeno constructivo ha definido la personalidad de una sociedad, la cristiana medieval, de un territorio, Europa, y de la excepcionalidad de ambos. Esta efervescencia constructiva ha sido explicada tradicionalmente como un proceso inexorable, contingente y hasta cierto punto al margen de una evolución histórica datable y explicable, nacido al calor de la expansión doctrinal de la iglesia en torno al año mil. La clave de este proyecto reside en considerar que los ámbitos laico y eclesiástico obedecieron a motivaciones comunes a la hora de "petrificar" el excedente económico en iglesias, casas, castillos, torres o palacios, en lo que fue un proceso global, pero cronológicamente bien acotado entre los siglos XI y XIII. La visión más generalizada tiende a considerar este proceso como algo natural, como una simple fase evolutiva de la sociedad medieval. Este proyecto, en cambio, considera que un proceso que tiene lugar en tan corto espacio de tiempo y en lugares tan distintos y sin relación entre sí, no puede considerarse únicamente consecuencia del crecimiento económico, sino que también implica dinámicas institucionales nuevas, usos sociales inéditos y concepciones ideológicas radicalmente distintas a las que hasta entonces habían imperado la Europa occidental.
El proyecto Advanced Grant ERC Petrifying Wealth busca reescribir la historia social de la Edad Media, haciendo hincapié en la necesidad de reevaluar desde una nueva perspectiva un elemento que siempre había estado presente en nuestro imaginario del Medievo, pero al que apenas se le había otorgado la posibilidad de ofrecer explicaciones profundas de dinámicas sociales complejas. Este proyecto busca encontrar esas explicaciones. Para ello se trabajará en colaboración con el Laboratorio di Archeologia Medievale de la Università Degli Studi di Roma Tor Vergata, con amplia experiencia en cartografía de construcciones medievales en las áreas del Lacio y de Toscana.
Ana Rodríguez es actualmente Jefa del Departamento de Estudios Medievales del Instituto de Historia, especialista en historia social y coordina otro proyecto europeo: Power and Institutions in Medieval Islam and Christedom (PIMIC).
"Seven Questions about the Controversy over al-Ghazālī in al-Andalus"
Ken Garden, Tufts University
23rd may 2016. 11:30 h.
Seminar room Julián RIbera 1C
Centro de Ciencias Humanas y Sociales-CSIC
C/ Albasanz 26-28, 28037 Madrid
Organized by the project CORPI
"Origen y transmisión de la correspondencia entre judíos de España y los Constantinopla. Silencios, problemas y conjeturas"
Fernando Bravo
TEIM, UAM
20th abril 2016. 11 h.
Seminar room Julián RIbera 1C
Centro de Ciencias Humanas y Sociales-CSIC
C/ Albasanz 26-28, 28037 Madrid
Organized by the project CORPI
Lectura de interés
Elizabeth Shakman Hurd, Beyond Religious Freedom: The New Global Politics of Religion.
Pages