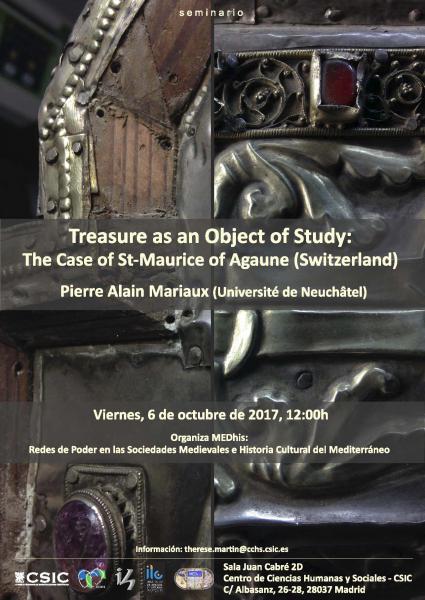 Treasure as an Object of Study. The Case of St-Maurice of Agaune (Switzerland)
Pierre Alain Mariaux
Friday 6th October, 12:00h
Seminar room Juan Cabré 2D,
Centro de Ciencias Humanas y Sociales-CSIC
C/ Albasanz 26-28, 28037 Madrid
Organized by the project: Therese Martin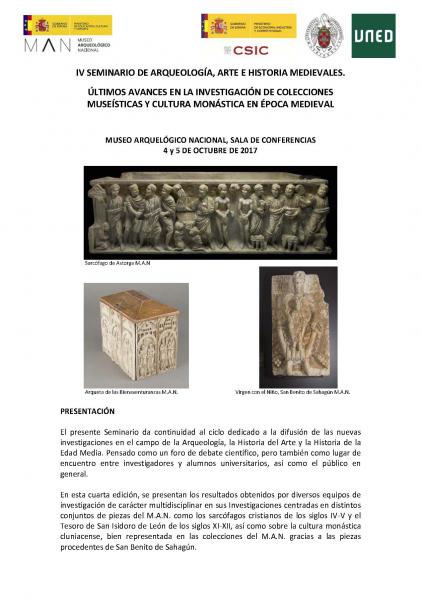 IV Seminario de Arqueología, Arte e Historia medievales
Últimos avances en la investigación de colecciones museísticas y cultura monástica en época medieval
Miércoles 4 y jueves 5 de octubre 2017
Sala de conferencias, 15:30 a 20:00
http://www.man.es/man/actividades/congresos-y-reuniones/20171004-seminario-cultura-monastica.html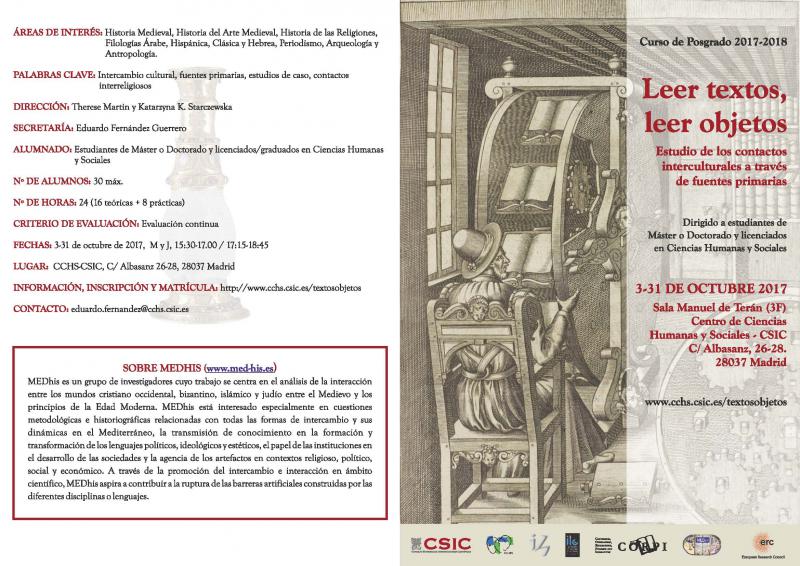 El curso se centrara en el estudio de casos concretos donde los artefactos culturales cobran especial protagonismo como el espacio de encuentro entre diferentes culturas, religiones y tradiciones. Para ello se presentaran fuentes de diversa índole y procedencia, tanto escritas como materiales, que han suscitado diferentes preguntas en el proceso de investigación.  Estos interrogantes se plantearan con dos fines: por un lado, servirán para relacionar de manera transdisciplinar diferentes aspectos de la investigación sobre los dichos artefactos. Por ejemplo, cómo interpretar la circulación de un manuscrito para estudiar los contactos entre los cristianos y los musulmanes en la Edad Media o cómo leer las glosas marginales de textos religiosos para reconstruir la historia intelectual de un texto. Por otro lado, el curso aspira a proporcionar herramientas practicas para el estudio transdisciplinar de todo tipo de fuentes.
Para más información sobre las diferentes sesiones, fechas y detalles sobre la inscripción, es posible consultar el díptico adjunto y la página web http://cchs.csic.es/es/textosobjetos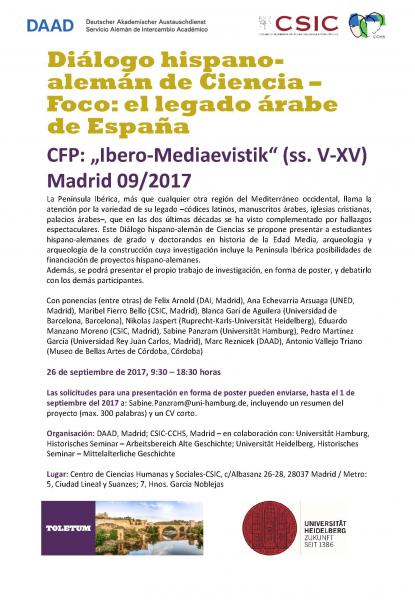 Título: Diálogo hispano-alemán de Ciencias. Foco: el legado árabe de España / CFP: "Ibero-Mediaevistik" (ss. V-XV) Madrid 09/2017
Fecha de celebración:  26 de septiembre de 2017, 9:30 – 18:30 horas
Las solicitudes para una presentación en forma de poster pueden enviarse, hasta el 1 de septiembre del 2017 a: Sabine.Panzram@uni-hamburg.de (link sends e-mail), incluyendo un resumen del proyecto (max. 300 palabras) y un CV corto.
Organización: DAAD, Madrid; CSIC-CCHS, Madrid – en colaboración con: Universität Hamburg, Historisches Seminar – Arbeitsbereich Alte Geschichte; Universität Heidelberg, Historisches Seminar – Mittelalterliche Geschichte
Lugar: Centro de Ciencias Humanas y Sociales-CSIC, c/Albasanz 26-28, 28037 Madrid / Metro: 5, Ciudad Lineal y Suanzes; 7, Hnos. García Noblejas
Virtual Library of the Mediterranean Sea
A shared library in many languages, many scripts, with written, image and audio resources. It encompasses our common heritage of written and graphical documents, currently preserved in Mediterranean countries
The Virtual Library aims at establishing a corpus of digital documents, free of copyright, resulting from libraries, archives and museums, public or private collections relative to the Mediterranean countries.
The access to collections and to documents is an essential element for the development of the heritage and its sharing. The Manumed project, through its virtual library, watches to facilitate this access.
http://data.manumed.org/?utm_source=Mediterranean+Seminar+Associates&utm_campaign=425c2d105f-EMAIL_CAMPAIGN_2017_09_19&utm_medium=email&utm_term=0_67ff7a0fb6-425c2d105f-175967605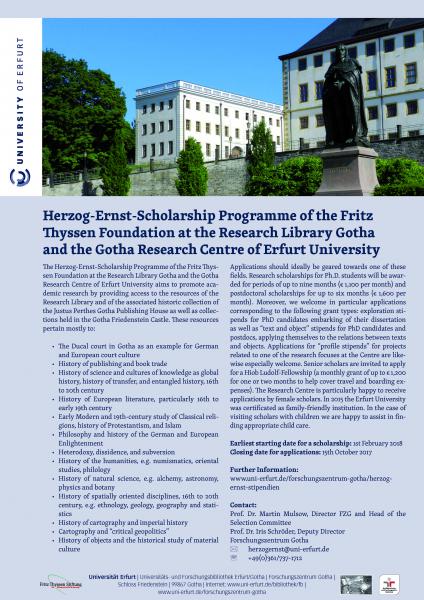 Earliest starting date for a scholarship: 1st February 2018
Closing date for applications: 15th October 2017
Further Information:
www.uni-erfurt.de/forschungszentrum-gotha/herzog-ernst-stipendien
Contact:
Prof. Dr. Martin Mulsow, Director FZG and Head of the
Selection Committee
Prof. Dr. Iris Schröder, Deputy Director
Forschungszentrum Gotha
herzogernst@uni-erfurt.
https://www.uni-erfurt.de/index.php?id=34716&L=1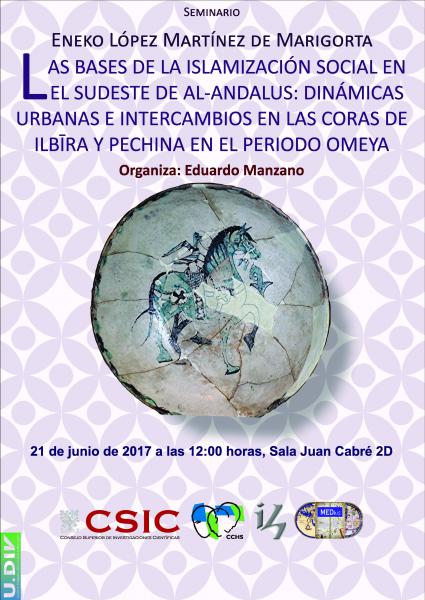 "Las bases de la islamización social en el Sudeste de al-Andalus: dinámicas urbanas e intercambios en las coras de Ilbīra y Pechina en el periodo omeya"
Eneko López Martínez de Marigorta
Instituto de Historia
21 de junio 2017, 12.00h
Sala Juan Cabré 2D
Centro de Ciencias Humanas y Sociales-CSIC
C/ Albasanz 26-28, 28037 Madrid
Organiza: Eduardo Manzano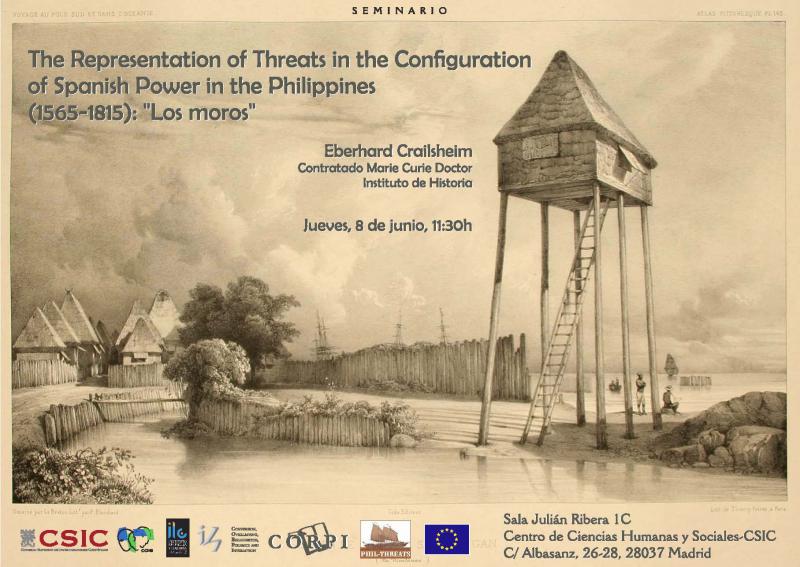 The Representation of Threats in the Configuration of Spanish Power in the Philippines (1565-1815): "Los moros"
Eberhard Crailsheim
Instituto de Historia
8th June 2017,  11:30h
Sala Julian Ribera 1C
CCHS-CSIC
C/ Albasanz 26-28, 28037, Madrid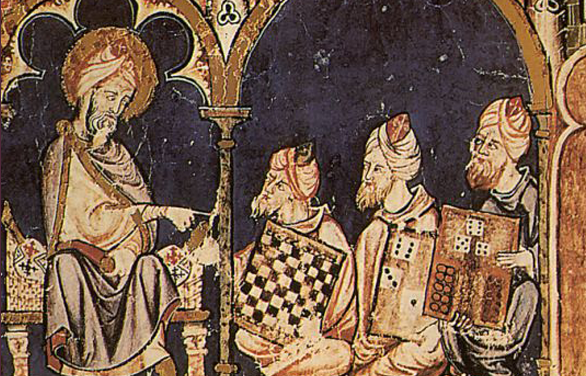 This website is specifically concerned with knowledge and power in the pre-modern Islamic west. It is showcasing related activities of a team of researchers at the CCHS-CSIC. At the same time, it attempts to provide complementary information and links to relevant projects and resources for anybody interested in this topic.
http://www.knowledgeandpower-iw.eu/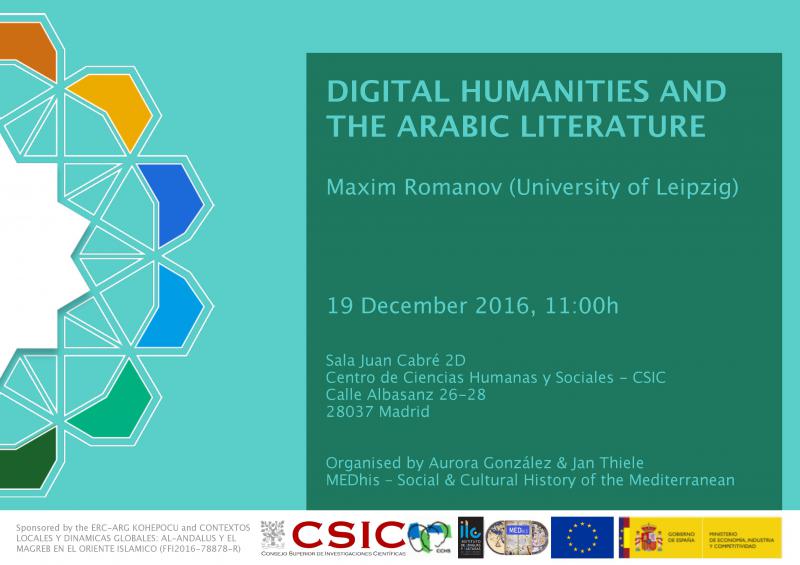 Digital Humanities and the Arabic Literatura
Maxim Romanov (University of Leipzig)
19th December 2016, 11:00h
Sala Juan Cabré 2D
Centro de Ciencias Humanas y Sociales - CSIC
Calle Albasanz 26-28
28037 Madrid
Organised by Aurora González & Jan Thiele
MEDhis – Social & Cultural History of the Mediterranean
Pages